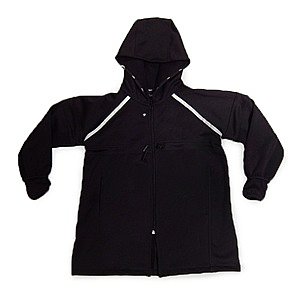 New All Weather Coat
This stylish and comfortable coat is perfect for any outdoor weather. It is made from a 3000 g/m2/24h fabric that is 96% Polyurethane /4% Spandex. A non permeable film prevents any water from leaking through to the 100%, cozy polar- fleece bonded on the inside. There are few better fabrics to withstand the elements and even less that feel as warm and comfortable as this light-weight, outdoor material does.
Styling is at its best with unique thumb-holes in the cuff to add a protective element. Reflector trim makes it easy to see at night and three zippered pockets make it practical and fun to use. Shorter in the front and longer in the back makes it convenient to run in, no more boxy kids coats, this one has style and comfort built right in. Toggles are there to synch at the waist, keeping body heat in and a roomy hood for rainy weather. This coat defiantly says, Stay out and Play!®
Garments may be worn tight or loose fitting depending on what your child likes best.
Consult our Agoo® size chart.
You can also get a 20% off discount on any item if you enter "agootots"
Read More