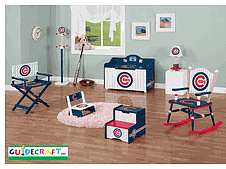 Officially licensed Cubs Major League Baseball Furniture Collection
The furniture in this collection is hand carved, hand painted, instant heirloom bears the official logos, colors and markings of your favorite team.
Now even the smallest fan can reach new heights and have the best seat in the house!
The collection includes a toy chest, rocking chair, storage step-up, table lamp, clothes tree, director's chair, and flip-up step-up chair.
The Toy Box is spacious and has removable dividers to allow storage customization. Features safety hinges and cut-outs to prevent finger pinching.
Read More