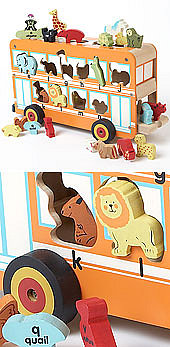 Don't miss this bus! Sure to be one of their favorite toys, this built-for-learning bus combines the fun of a push-around vehicle with the brain-building power of a letter-based shape sorter.
Each of the 26 wooden animal blocks features the animal's name and letter. Find the animal's corresponding letter and shape on the bus, then push the shape on through.
Once all the animals are inside, open the back door to retrieve them, or take them on a fun roll-around ride!
Made to last in Thailand, a country known for its safe, beautiful woods and superior wood-working tradition. Its smooth, sturdy particle board and solid wood construction will stand up to years of play!
How big is it? Approximately 16 inches long, 9.25 inches tall and 5.5 inches wide
Read More